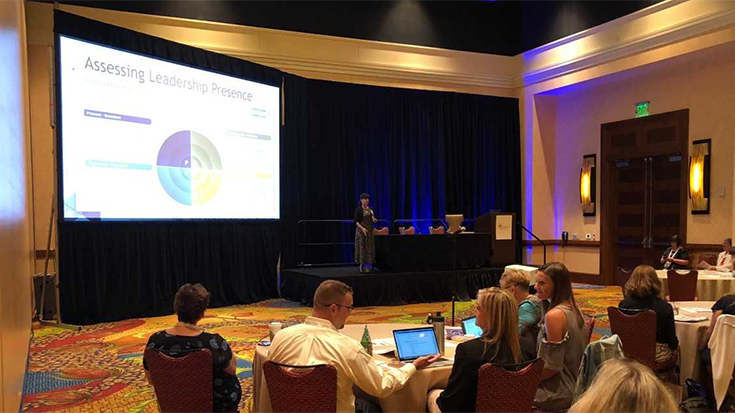 To provide a wide variety of content options to Congress participants, the AARC offers pre-courses, one being the Women in Leadership panel. Some of your colleagues took part in the first edition of this pre-course this past summer, finding it filled with great thought-provoking discussion and takeaways.
The Women in Leadership pre-course is designed for all AARC members—for both women and men and for both emerging and current leaders. The sessions will encourage the participant to examine strengths, leverage mentorship opportunities, and establish a leadership presence as part of developing or helping others to develop a career path.
We asked your fellow AARC members who attended the summer pre-course to share what they felt were the primary takeaways from the session. Here's what they had to say.
Lori Tinkler, MBA, NBRC CEO
Be an advocate for your female peers in a way that helps mentor and support their current and future leadership.
Show your value as a female leader by how you dress and speak.
This is a must-do session for women who want to take themselves to the next level.
Renee Uchtorff, MhA, RRT
Overall, I did enjoy the Women in Leadership course at Summer Forum. The one topic I found most interesting was discussing emotional intelligence. The thought that an honest, thorough and ongoing self-assessment must take place for one to be self-aware, and that this cannot be done well without emotional intelligence. Excellent point and one I still think about frequently!
Jaclyn Cruz, RRT
I really enjoyed the conversation regarding the mentor-mentee relationship. As a new professor I was assigned a mentor, however, there was no structure made for that relationship. Since this conversation, I have talked to my associate dean about providing the mentor and mentee some structure on how that relationship should look like and what the objective of the relationship. Also, I am currently in the process of developing a mentor program for our students. I really feel this would help our retention (not that it is bad) but if it can help even one student it would be worth it.
Looking for more about developing a mentor-mentee program? Check out the "Mentorship Sets Career Foundation" web article.
I would certainly recommend it for new ideas, building relationships with others, and to build upon leadership qualities.
Teodoro Tovar, M.A., RRT, RRT-NPS, RCP
The importance of effective communication.
The value I found was the abundance of knowledge and wisdom that was shared and may be utilized in the various areas of education and health care.
I would highly recommend the pre-course to fellow colleagues because it sheds light from various lenses.
Brady Scott, MSc, RRT, RRT-ACCS, AE-C, FAARC, FCCP
I walked away with a better awareness of the challenges that women face in the workplace. Issues such as gender stereotype, lack of equal pay, lack of role models, and sexual harassment are real. The presenters demonstrated these issues through data and anecdotes, very effectively. As a leader, the Women in Leadership workshop helped me check my own biases and to be more self-aware of issues that, in reality, I just did not understand well.
The panel discussion format brings perspective. Each one of the panelists had different experiences along their professional journeys. It was helpful to hear their experiences, stories, and suggestions for moving forward. Also, the audience submitted a lot of questions that sparked considerable dialogue.
Absolutely [when asked if he would recommend this pre-course]. First, there was a lot of great leadership topics that apply to all individuals in leadership positions. Some topics like mentoring, developing a leadership presence, and knowing one's own personality type applies to all of us. With that said, I think men who have reporting structures involving women (either direction), should understand the realities that women face in their roles. This workshop is a great way to hear the issues, hear the stories, see the data, and walk away with the tools to self-reflect on one's own professional biases and behaviors.