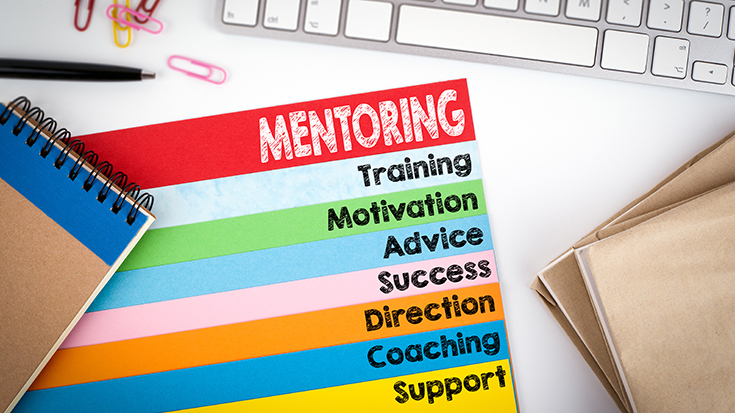 A strong mentorship program nurtures and cultivates careers, proving beneficial for both the mentee and mentor. Three AARC members—Ellen Becker, PhD, RRT, RRT-NPS, AE-C, RPFT, FAARC, Lynda Goodfellow, EdD, RRT, AE-C, FAARC, and Georgianna Sergakis, PhD, RRT, FAARC—share their tips for developing a successful mentor-mentee program.
Tips for developing your program
The mentee needs to drive the relationship. The mentee needs to identify goals and address the type of help they need from the mentor. The mentee's goals influence who would be the best mentor. (Becker)
Both mentors and mentees need strong mentor orientation programs. It is difficult to guide a relationship that you do not understand. The lack of a solid mentoring orientation program prevents many mentees from initiating productive relationships. (Becker)
The mentors and mentees should be oriented separately. However, each should be aware of each other's responsibilities. (Becker)
Allow these relationships to occur organically. One cannot force senior staff to be a mentor nor can one compel junior staff to want to be a mentee. Managers must personally recruit senior staff that they believe have the temperament, knowledge and expertise needed to develop a mentoring program. This may take time by introducing the goals and objectives of the mentor program, and by offering professional development for new mentors. This investment in mentors is needed before the program is launched. (Goodfellow)
Once the mentoring program has a pool of mentors, your mentoring program becomes a recruitment tool for new hires. This sets the expectation that everyone is responsible for life-long learning. (Goodfellow)
Mentors should remember you are not in the relationship to make them into a clone of yourself. You must approach the mentorship as 'how you can support and listen to their goals or aspirations' so that they can become their best selves. (Sergakis)
Think of mentoring like motivational interviewing. You paraphrase what you are hearing the mentee tell you and speak it back to them in a way that they can resolve their dilemma on their own. Often, simply listening to understand and not to respond is the best strategy. (Sergakis)
Advice for new mentors
"A mentor should always begin by identifying the mentee's goals," Becker said. "If the mentee's goals are not consistent with the mentor's experience, suggest a colleague with the requisite background."
Becker also suggests:
Mentoring should have an end-point.
Mentors should never be 'possessive.'
Mentee successes need to be celebrated as the mentee's accomplishment, and not coming from the mentor's involvement!
"Mentors are role models and it is important to embrace this responsibility," Goodfellow said.
She suggests that new mentors should create a professional development plan and work to achieve their goals. This plan should be reviewed and revised yearly for continued growth.
"As development and expertise grows, the team and managers will notice," Goodfellow said. "Be open to those who reach out to you for advice and more. These types of interactions tend to grow and flourish into meaningful working relationships."
Advice for new mentees
"It is important to have different perspectives and different learning experiences," Goodfellow said, who suggests mentees should look for experiences with mentors they know well and those they are not as familiar with.
When looking for her own mentors, Goodfellow sought out someone to emulate.
"In other words, someone who had the knowledge or skills that I believed I needed to reach my goals," Goodfellow said. "I also looked for someone who was much smarter than I was so that I could learn and be challenged."
Becker emphasizes that mentees need to identify clear goals prior to reaching out to mentors.
"Rather than ask, 'Will you be my mentor?' mentees should ask, 'Can I help you work on… because I want to achieve…?,'" Becker said.
After establishing an initial meeting time, Becker recommends mentees
Come to the meeting with a written goal and prepared to make a set of action steps.
Set up regular meetings and review your progress at each meeting.
If you are not making progress, reflect on your own commitment to the goal and whether the mentor is the right fit for you and your goal.
Mentorship benefits
For Sergakis, the mentor-mentee relationship is mutually beneficial. The mentee benefits from the advice and collective experience of their mentor. The mentor benefits from giving and sharing of their time.
Sergakis says she often asks herself what she wishes she would have known at the same point in her career as her mentee's. She then makes it a point to share those thoughts with her mentees.
"I also am quite annoying when I have conversations urging mentees to get out of their comfort zone and try something that they don't have on their five-year plan," Sergakis said. "Some of the best opportunities present themselves in a subtle way, and they can open the door for much more exciting challenges."
Trust unlocks success
"Mentors need to trust in their mentee's potential to succeed independently," Becker said.
Becker recounted an experience where a mentee who was struggling with departmental politics reached out to her for guidance.
"I was in a position to intervene on behalf of the mentee after our conversation, but reminded myself to be patient," Becker said. "The following day I heard back from the mentee how successful she was at addressing the issue on her own. We both learned!"